Get Your Copy of WSI's Book on Kindle for FREE
We think our book, Digital Minds: 12 Things Every Business Needs to Know About Digital Marketing is the perfect resource for people and businesses who want to delve into digital marketing.  So much so, that we want to make sure everyone has a chance to read it.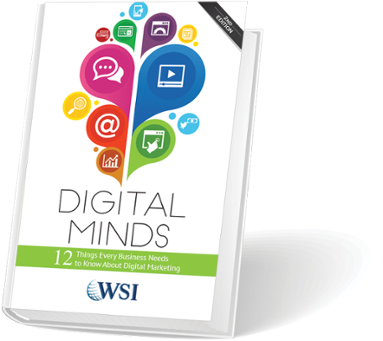 So be sure to pick up your FREE (yes, that's right we said free) Kindle version at Amazon and start expanding your digital mind!
Our Book is Rated 4.5/5 on Amazon!
We know our book is great, but others think so too! Here are what some of our readers have to say:
"A comprehensive look at the various methods of creating a digital presence for a business. Includes potential goals, results, and pitfalls of each. A valuable resource."
"This is a great book about digital marketing. I'm a complete novice to digital marketing and this book covered a lot of topics related to digital marketing and I went from knowing very little to knowing a lot about digital marketing. You will not become an expert overnight but at least the book guides you in the direction you need to go. I recommend this book."
Check out the chapter list below if you still need convincing.